The 5 Most Amazing Treehouse Hotels in Tulum
Tulum is boho-chic heaven, with never ending options of Eco-friendly bungalows, luxury hotels and beach-front cabañas. However, some of the most magical and unique places to stay are treehouses. From world-famous architecture to quiet jungle getaways, these are the most amazing treehouse hotels in Tulum.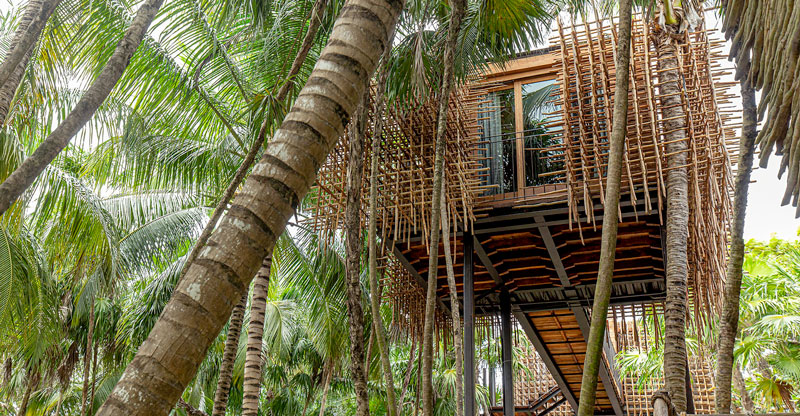 Nomade Tulum

Nomade is known for its stylish boutique hotel, complete with suite, bungalow and tent options, and Moroccan style beach club. However, something many people don't know is that they also have some of the most unusual designer treehouses too. Sitting high in the jungle canopy, Nomade Tulum's treehouses are encased in vertical sticks, come with an ocean or jungle view and are connected by swaying rope bridges. There are only 5 treehouses available at Nomade, and each one gives you access to the beach club, restaurant, and the Yoga Shala and wellness facilities. If you're looking to stay close to the action in Tulum but also want the unique experience of staying in a treehouse, then this may be the hotel for you.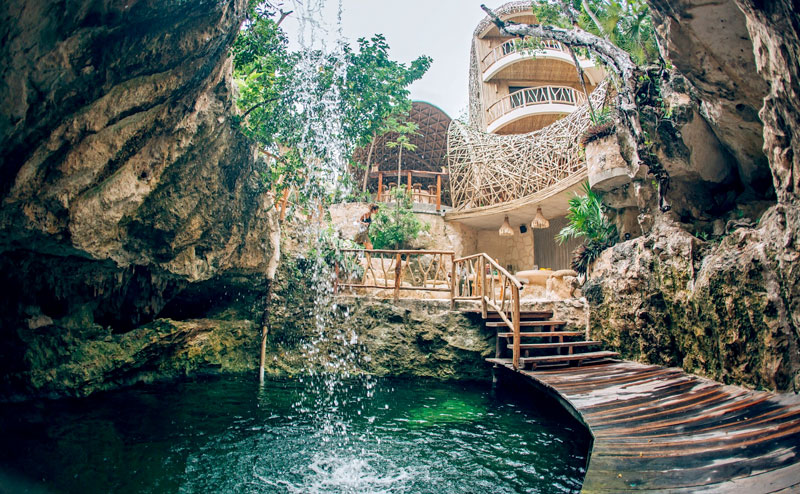 Kan Tulum Treehouse Boutique Eco-Hotel

Nestled deep in the La Veleta jungle, Kan Tulum Treehouses are the ultimate Eco-boutique experience. All of their rooms are sustainably built with as many locally sourced materials as possible and use recycled Cenote water in their bathrooms. They have a huge focus on wellness and relaxation, with one of the most comprehensive offerings in Tulum. You can enjoy the on-site cenote and pool during the day and then watch the fiery sunset from their jungle canopy viewing platform and dine in their romantic restaurant at night. If an Eco-forward stay is what you're looking for, Kan Tulum Treehouse Boutique Eco-Hotel could be the perfect place to stay in Tulum.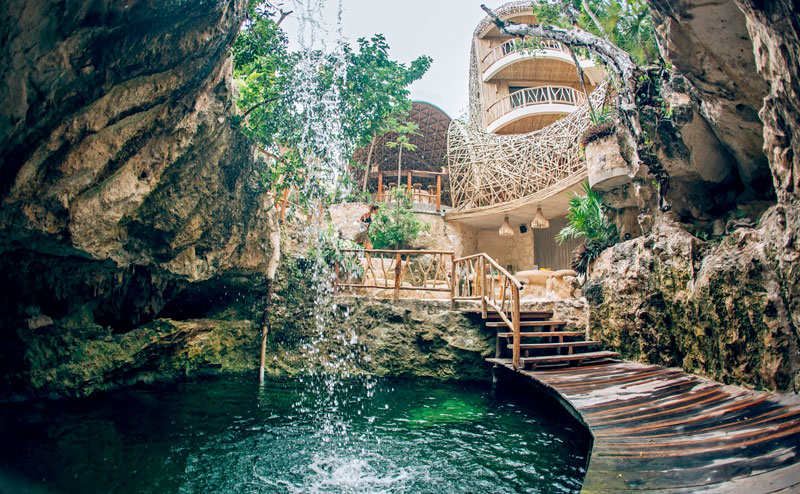 Jungle Eco Treehouse

The Jungle Eco Treehouse is an experience unlike any other in Tulum. Their treehouses are clear domes atop impressive platforms that are standing 30 meters above the ground. Each dome comes with its own path and outdoor area which looks out over the lush Mayan jungle. This is the perfect place to relax, watch the sunrise in the morning and stargaze at night. Jungle Eco Treehouse feels completely remote, but is actually just 5 minutes from downtown Tulum, making it the perfect getaway for couples looking for alone time that also want to experience all Tulum has to offer.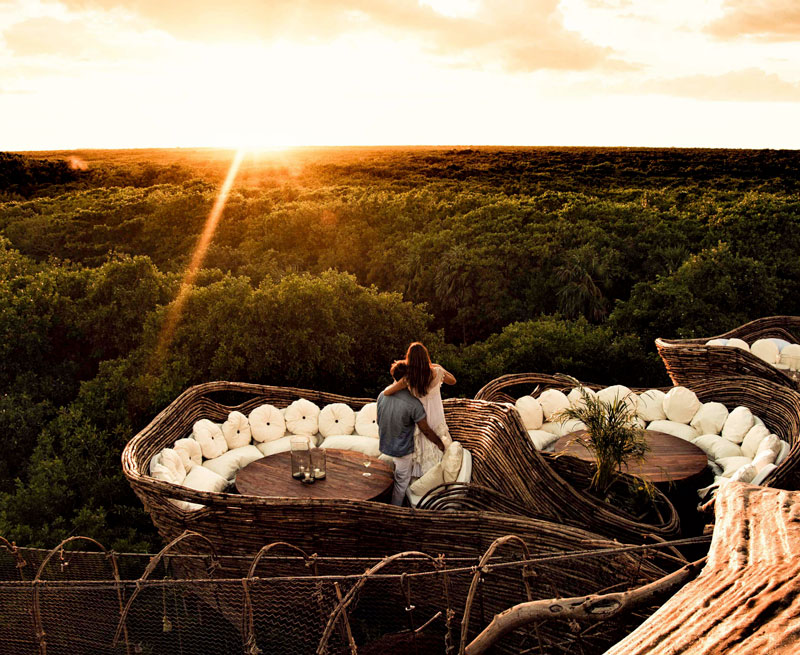 Azulik

No list of treehouse hotels in Tulum would be complete without mentioning the world-famous Azulik hotel. This complex is more like a mini treetop city rather than a treehouse and is one of the most breathtaking properties in the Riviera Maya. Built on the white sand beaches in the hotel zone of Tulum, Azulik is an impressive hotel made mainly from sustainable and natural wooden elements. You can relax in one of the many luxury treehouse rooms, enjoy the on-site museum and shops, eat in one of the 'nests' in the famous restaurant or simply enjoy the once in a lifetime experience that comes with walking through the swirling bridges and spiral walkways of Azulik.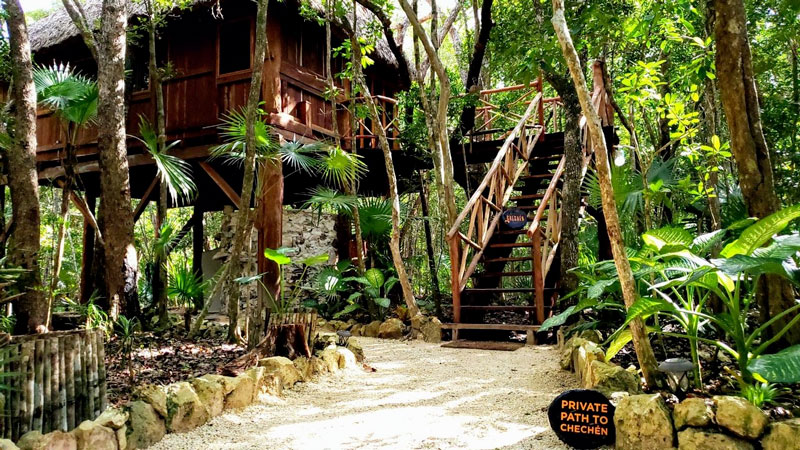 Ajal Tulum

Ajal Tulum calls a deep, lush nook of the Mayan Jungle home and is one of the most serene treehouse hotels in Tulum. This adults-only boutique hotel is located a few minutes drive from the heart of Tulum, right next to the popular Cenote Escondido. Each of their treehouse rooms is raised up to an impressive 15 feet above the ground and grant access to the stunning cenote, wellness activities, luxurious amenities and picturesque jungle common area. If you're looking for a remote place to stay in Tulum, where you can disconnect from everything and centre yourself, Ajal Tulum could be the treehouse hotel for you.



If you've fallen in love with the Eco-chic, bohemian style of Tulum and are looking to invest in property there, don't hesitate to contact us at The Agency RM with all your Tulum real estate needs.