Cancun Airport officially connected to the Mayan Train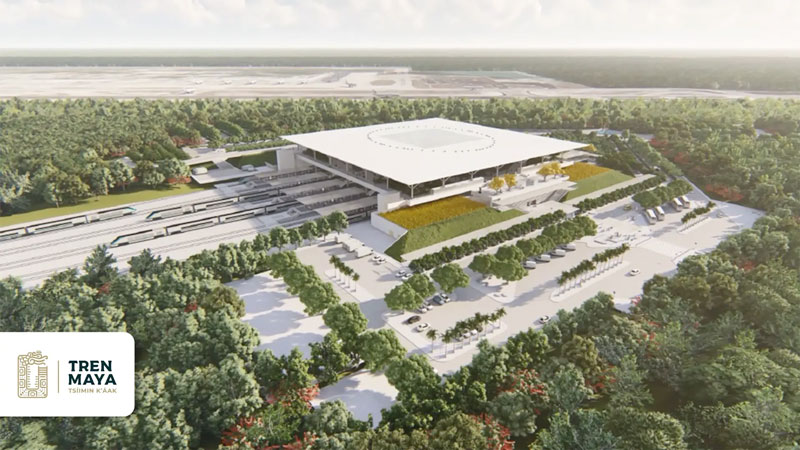 Construction on Cancun Airport's link to the Mayan Train began last month and is already well underway. Each of the four Terminals at Cancun Airport will have its own Tran Maya link, eliminating the need tor passengers to make transfers around the airport.

The Mayan Train was first proposed back in 2018 by President of Mexico, Andrés Manuel López Obrador. Since then, there have been various stages of planning and construction, but the Cancun Airport link is making this a very real and viable project for the people of Quintana Roo. Upon completion, the train will cover the entire Yucatan Peninsula and stretch out to Chiapas, Tabasco and Campeche. This large scale project is being celebrated as an integral national development, which is set to drive tourism and economic growth in the Yucatan.

What are the economic factors of the Mayan Train?
The Mayan Train is set to begin its operations in the beginning of 2024, and will offer a low cost, environmentally friendly way to get from Cancun Airport to the Hotel Zone and nearby towns such as Playa del Carmen, Puerto Morelos, Tulum and Bacalar. The Mayan Train is also set to run on a special biodiesel, which offer a more environmentally friendly alternative to the fuel guzzling cars and airplanes that currently run these routes.

Not only will the Tran Maya give much needed reprieve on the heavy traffic that builds around Cancun Airport, but it will make the rest of the Riviera Maya and Quintana Roo much more accessible to first time tourists, spreading out that economic wealth. The reps of Cancun Airport recently put out a statement that over 46 Mayan sites will be accessible directly from the airport and 14 of Mexico's 'Pueblos Magicos', which are towns noted for their cultural significance and beauty.

To date, the large-scale construction project has already created over 10,000 direct and 41,000 indirect jobs. By the end of 2023, the Mexican Secretary has stated that a total of 715,000 jobs should have been created from the Mayan Train, helping to boost the local economy down to the low-income towns and neighbourhoods.

Key facts about the Mayan Train
$105.6 million USD generated by 2023.
8% more tourists in Quintana Roo.
46% reduction in travel time from Cancun Airport.
948 miles of operational train track.
160 km/hour high-speed trains running like clockwork.


All in all, the Mayan Train project is ticking along nicely, with infrastructure for its major stops, such as Cancun Airport, already being built. The reduced travel time, influx of income and jobs into the area, and the ease of travel around the Riviera Maya, the Yucatan and beyond, are all very exciting aspects of this $20 billion USD project.  
THE AGENCY MAGAZINE
Perspectives on life and luxury
Summer Issue Out Now!