4 Must Visit Rooftop Pools in Playa del Carmen
Summer in Playa del Carmen calls for lazing by a pool with a good book and a margarita in hand, and we all know the best pools are on rooftops. Nothing beats the panoramic views or the amazing breeze that comes with chilling poolside on a rooftop So, whether you're looking to go all out with champagne and bottle service, dance the day away to a local DJ, or are looking for a quiet spot to relax and unwind, these are the 5 must-visit rooftop pools in Playa del Carmen.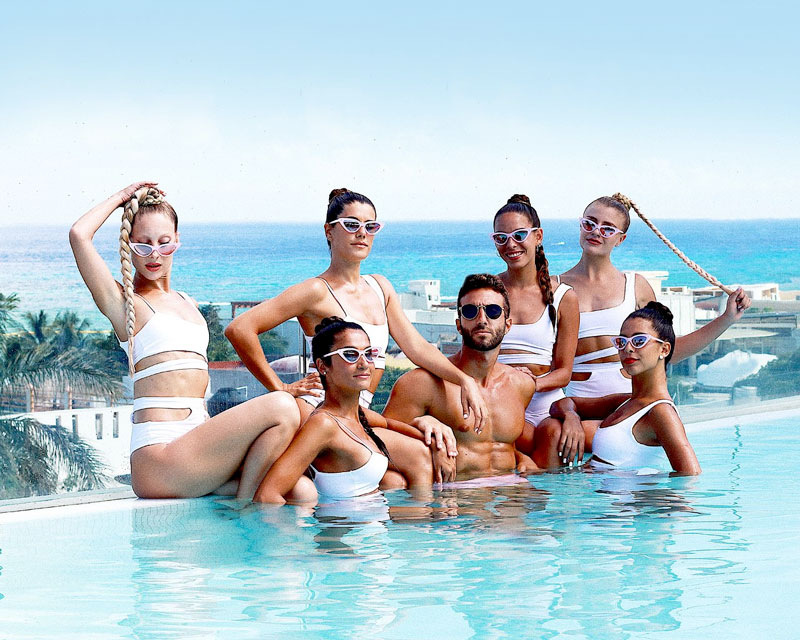 Alessia Day Club
$$$

No rooftop pool has quite the same breathtaking view as Alessia Day Club. Located on top of the trendy adults-only Thompson Hotel, Alessia has a panoramic view of the famous 5th Avenue and the turquoise Caribbean Sea. With 5-star service, a wrap-around pool, VIP lounges and plush daybeds, Alessia is the best high-end rooftop pool in Playa. During the week you can relax and enjoy their extensive cocktail, craft beer and food menu, then on the weekends, the party starts at 12:00 pm with a live DJ set.
Day-pass price:
Monday to Thursday: $650 pesos ($550 consumption)
Friday to Sunday: $850 pesos ($750 pesos consumption)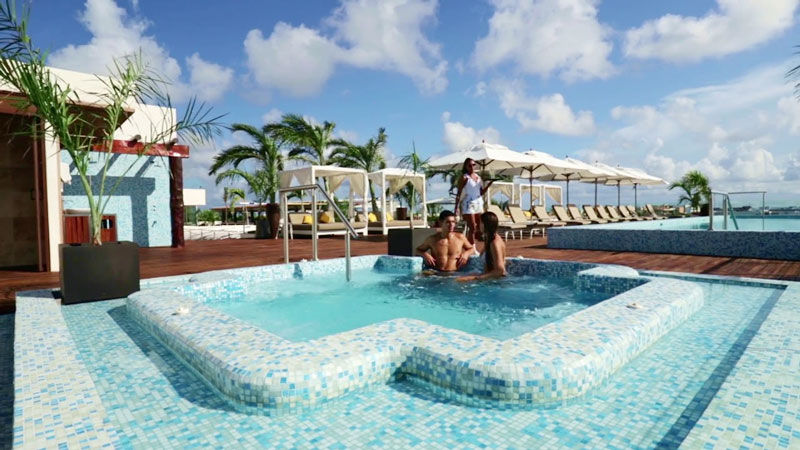 Reef 28
$$

The Reef 28 is a hip adults-only hotel located right on the strip down to the famous Mamita's Beach. This spacious rooftop has poolside sun loungers, ample lounge areas and dedicated restaurant seating too, making it one of the most spacious rooftop pools in Playa. You can find yourself a quiet corner to relax and enjoy a good book or make your way to the pool area to enjoy deep house beats and more of a party atmosphere. Reef 28 really is the best of both worlds.

Day-pass price:
Monday to Thursday: $400 pesos (consumption)
Friday to Sunday: $600 pesos (consumption)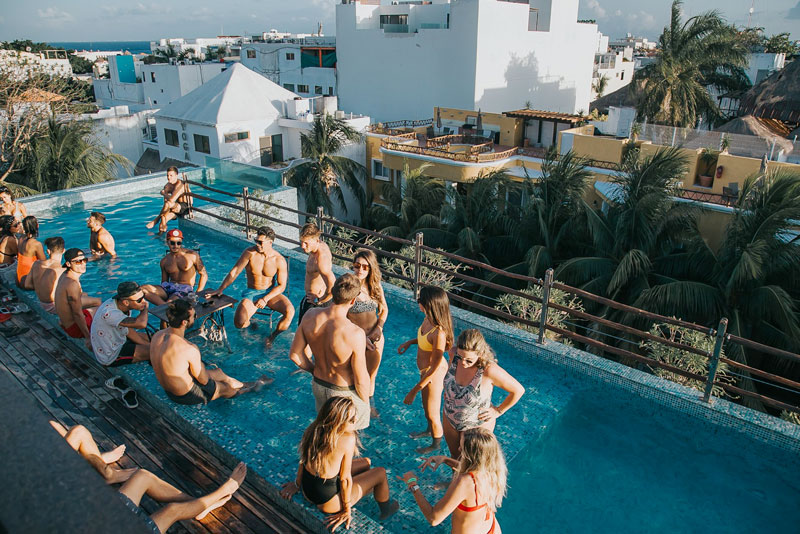 Be Roof
$

If you're looking for a local spot to relax and chill with a few friends, Be Roof is the rooftop pool in Playa del Carmen for you. Not only is this rooftop the most reasonably priced, but it's only frequented by locals, so the vibe is always friendly and relaxed. One of the best things about Be Roof is that you can order from the downstairs restaurant Sushi Club, and your food will be brought up to you to enjoy by the pool.

Day-pass price:
General admission: $200 pesos (consumption)
Day-bed of 4 pax: $1,000 pesos (consumption)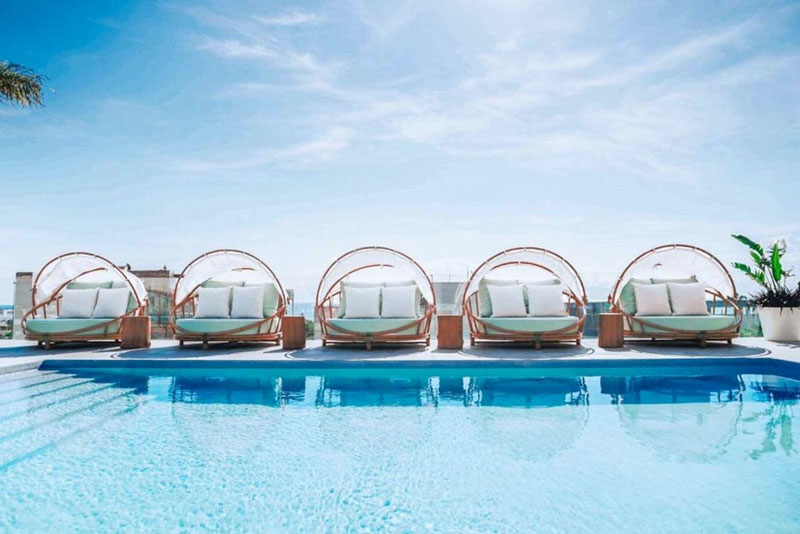 KAYAK Luna Hotel
$

This serene and intimate rooftop pool is located on the top of the new KAYAK Luna Hotel on 10th Avenue. Its boutique decor and chic pool design make it the perfect place to unwind with a cocktail in hand. They offer an extensive Mexican-inspired menu and have both plush daybeds and unique shaded pool loungers for you to enjoy. The best part about the KAYAK Luna Hotel rooftop pool? There's no day-pass cost, you just need to consume to enjoy.

Day-pass price:
No minimum, just consume from their food and drink menu.