Protecting The Ecosystem: Sustainable Development in Tulum
Anyone that has visited the beautiful town of Tulum will know that the businesses there try to be as eco-focused and sustainable as possible. The delicate biosphere that surrounds Tulum is filled with important flora and fauna, so it's imperative that steps be taken to protect this natural habitat. That's why, in 2018, Quintana Roo's tourism secretary announced that Tulum is Mexico's first official sustainable tourism development zone. A Legislation called NMX-AA-164-SCFI-2013 was also passed which gives extremely specific criteria for developers to follow to be able to class themselves as sustainable.

Today, developers are taking extreme care to make changes to the way they build and design their properties, to protect as much of the natural splendor of Tulum as possible.

Developments such as Kan Tulum treehouses, Solemn Developments, Adora Tulum Residence, Amelia Tulum Luxury Residence and Limas Tulum are just a handful of projects that are putting their "green" foot forward and making a conscious effort to protect the currently unspoiled landscape.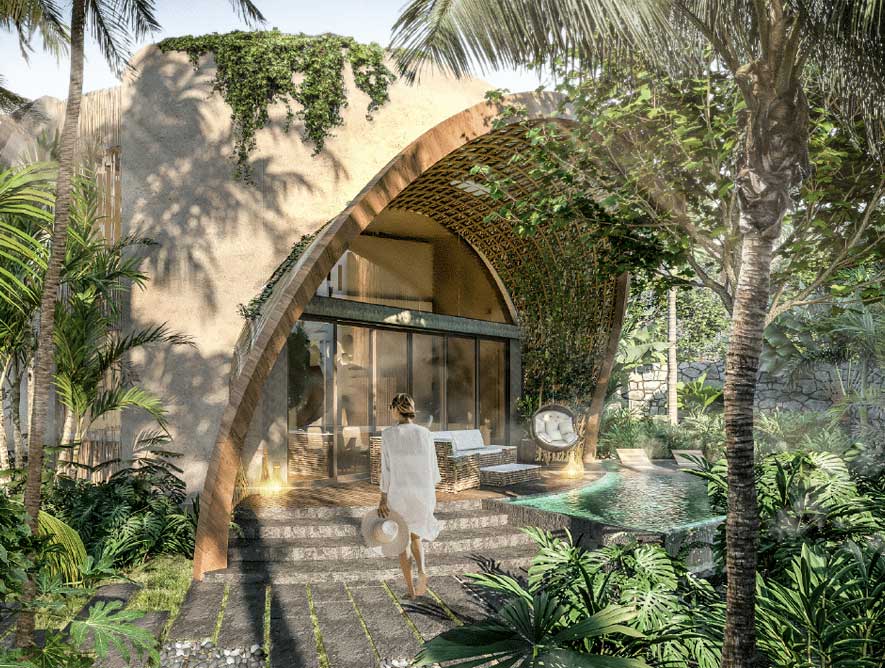 How do they do it?
A huge focus has been placed on reducing development footprints, as to preserve as much of the surrounding landscape as possible. Most developers are reporting an impressive 60% of protected natural space, meaning these new developments are making a minimal impact on the environment.

Tulum developers are also designing their properties a little differently, making an effort to use more curved structures and up to 55m2 of green space per resident to blend seamlessly with the surrounding jungle. Repurposed and renewable organic materials such as bamboo and local woods are also being used in an effort to reduce waste.

When it comes to the infrastructure of these eco-friendly developments in Tulum, big changes are also being made. Installation of water-treatment plants that use rainwater funneled through natural stone filters, solar energy and energy-efficient floor plans and strong encapsulating to avoid contamination of aquifers are all making a huge impact on sustainability.

If you're interested in investing in a sustainable property in Tulum, please don't hesitate to contact us at The Agency RM for more information.