The Most Festive Christmas Dinners in Playa del Carmen and Tulum
The warm weather, blue skies and glistening turquoise waters of the Riviera Maya don't exactly scream festive, but the Christmas spirit is definitely alive in Playa del Carmen and Tulum. This year, you can choose from a whole host of festive Christmas dinners and exciting Christmas parties. So, if you've swapped cold white winters for warm white sand beaches this year, here's where you can enjoy a festive Christmas dinner in Playa del Carmen and Tulum.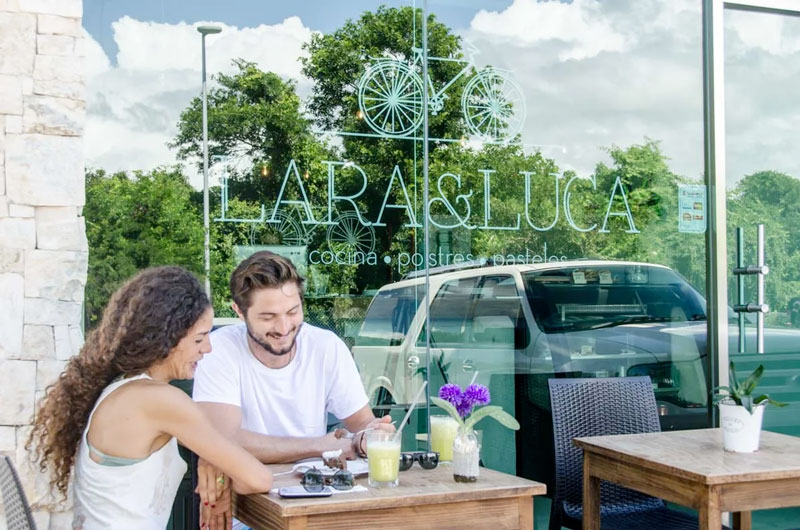 Lara & Luca
$500 pesos
24th December

If you're looking for a traditional Christmas dinner in Playa del Carmen that won't break the bank, this festive treat by Lara & Luca may be the one for you. They are serving up delicious traditional favourites such as maple-glazed pork belly and baked turkey with apple sauce and gravy. Their 4-course menu is sure to delight people of all ages, which is fantastic as Lara & Luca is one of the preferred local spots for families during the festive season.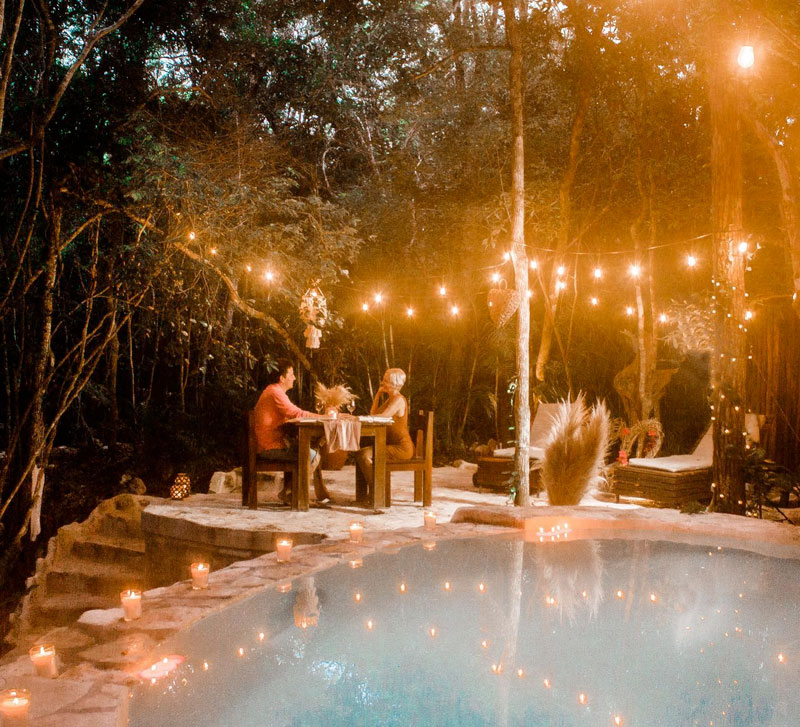 Pepem Eco Aldea Tulum
$75 USD
24th December

Christmas dinner in Pepem Eco Aldea Tulum will be an experience of a lifetime. You can dine on a 4-course meal in the heart of the Mayan jungle on the edge of a cenote. This magical Christmas dinner in Tulum also comes with a generous 5 hours of open bar and a festive DJ to keep the Christmas spirit alive. For an intimate and unique Christmas dinner you won't forget, be sure to book with Pepem Eco Aldea Tulum.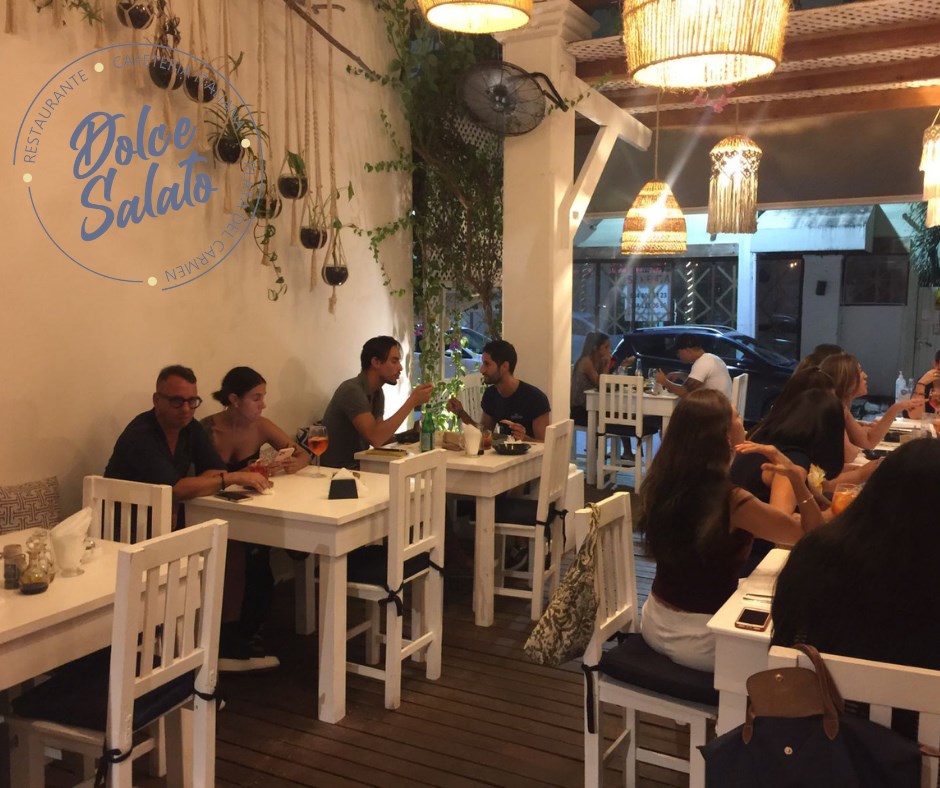 Dolce Salato
$990 pesos
24th December

If you're looking for something a little less traditional this year but still want those festive Christmas dinner flavours, Dolce Salato could have the menu for you. Located just half a block from Playa del Carmen's famous 5th avenue, Dolce Salato are putting on a 5-course Italian style holiday menu. You can enjoy dishes such as homemade cannelloni with braised lamb and thyme and a slow roast turkey with chestnuts and Italian sausage, all while listening to live Christmas songs. They have two seatings available at 6:00pm and 8:30pm, and offer a wine pairing option for just $1690.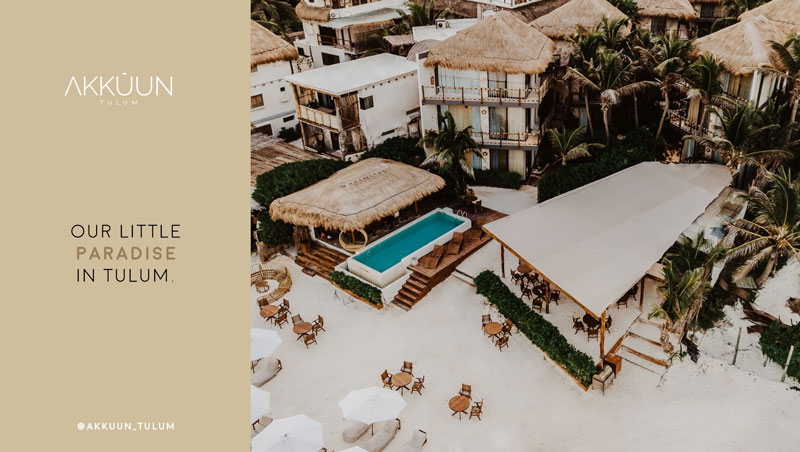 Akkuun Tulum
$5,500 pesos per couple
24th December For the ultimate Tulum Christmas dinner experience, you can spend this 24th at Akkuun Tulum. They are offering a luxury 4-course menu right on the beach. You can listen to the sultry sounds of the waves while dining on sumptuous dishes like lobster bisque, bacalao infused with orange oil and pink pepper and traditional roast beef. Their menu also comes with a bottle of wine included as they have created a romantic Christmas dinner for loved up couples.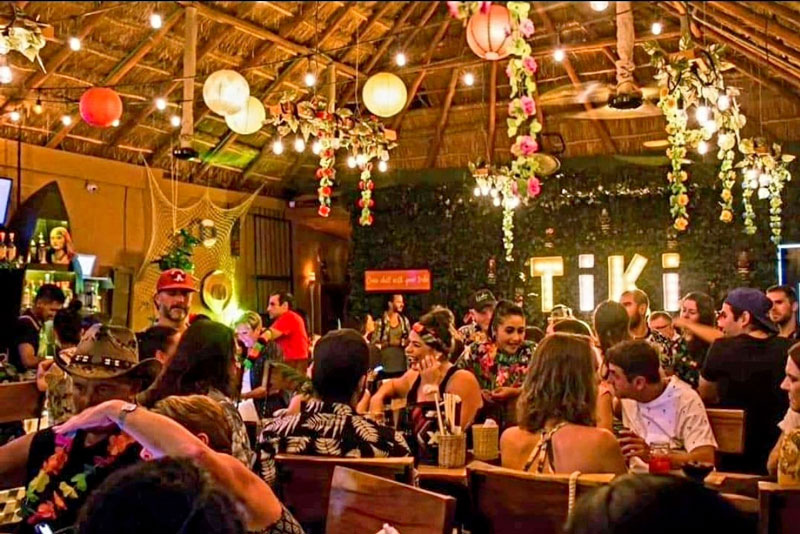 The Lost Tiki
Open Menu
25th December

In Mexico, most Christmas dinners are offered on the 24th of December as is traditional here. However, each year, The Lost Tiki lots on their annual Home Alone Christmas party in Playa del Carmen, so those without family in the Riviera Maya can celebrate with like-minded people. This year, they are offering festive Christmas cocktails, their full Asian-Mexican fusion menu and an exciting Christmas sing-along with a live band. Celebrate Christmas with your Playa family at The Lost Tiki on Christmas Day starting at 6:00pm.
If you're thinking of moving to the Riviera Maya to enjoy our warm and laid-back winters, we can help you find your dream property. If you have any questions about real estate in the Playa del Carmen or Tulum, please don't hesitate to contact us at The Agency RM.