U.S. Airlines are Dominating Cancun Airport International Travel
There are now 9 different American airlines that are operating out of Cancun International Airport (CUN), making America the leading country for international travel through the region. Not only are these U.S. airlines dominating the skies over Cancun airport, but they are carrying the highest volume of passengers into the airport too. That means that American tourists now make up the largest portion of visitors to Cancun and the Riviera Maya.





Which U.S. airlines are operating?

Right now, there are 9 different American Airlines that are ferrying beach-loving tourists from America to Cancun on over 800 different flights per week. The companies that are operating these popular routes into Cancun are:

American Airlines
JetBlue
Delta Air Lines
Alaska Airlines
Spirit
Frontier
Sun Country
United Airlines
Southwest Airlines

The most popular airline is United Airlines, sending a whopping 165 flights to Cancun per week. However, American Airlines isn't far behind, with a very close 164 flights per week to the Riviera Maya.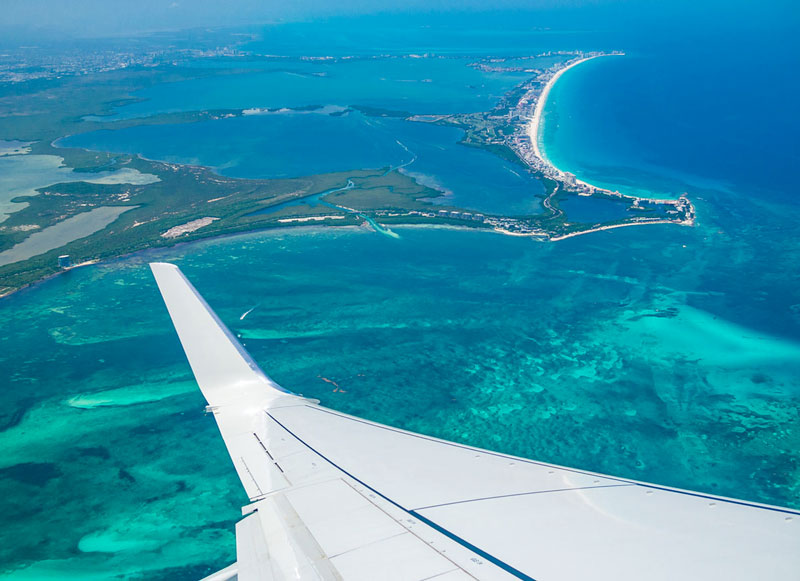 Where in the USA are Americans flying from?

With the new rule that a negative PCR or Antigen test is not needed for citizens to enter back into The States, projections are showing that there will be yet another influx of Americans travelling into Cancun this summer.

In fact, 38 different cities in the United States have direct flights to Cancun International Airport (CUN), which is astounding given its relatively small size. However, although flights to the Mexican Caribbean are coming from all over the country, the most popular airports are both located in Texas. Dallas Fort-Worth sends an impressive 94 flights per week to Cancun, and Houston Airport sends 66. Large airports such as Chicago O'Hare, Miami, New York and Atlanta aren't far behind, also sending a large number of tourists directly into Cancun daily.
What's the future of international travel from the U.S. to Mexico?

Throughout the USA, there are staff shortages and high demand for seats, meaning that there's just not enough manpower to operate many flights. This is resulting in many routes being cut to elevate the problem. However, when it comes to travelling to the paradise that is Quintana Roo, many American Airlines are actually adding more routes and flights to capitalise on the immense popularity.

Plus, with the impending addition of Tulum Airport, the capacity and volume of international travellers coming into Quintana Roo is set to increase dramatically. Upon completion, it has been stated that another 4 million passengers will be able to enjoy a vacation in the sunny Riviera Maya.
With the impressive number of international and American tourists visiting the Riviera Maya, it remains one of the most sought-after vacation destinations in the world. If you're looking to get a piece of the action by investing in real estate, now is the time. Shoot over any questions you have about the Riviera Maya real estate market to The Agency RM, so we can help you find your dream property.