The Agency Riviera Maya Unveils Volta Luxury Residences in Playa del Carmen with Design by Sami Hayek
Inspired by the natural beauty and surrounding turquoise waters of Playa del Carmen, Volta is a brand new collection of 60 exceptional condominiums and lifestyle amenities, featuring curated design by the internationally acclaimed Sami Hayek. Represented by The Agency's Alejandro Aldrete and Sally Sudol, Volta offers an entirely new, sophisticated way to live and experience Playa del Carmen, situated moments from the pristine beaches, Caribbean waters and Fifth Avenue's renowned shopping, dining and nightlife.

From the exterior, Hayek's vision is on display, showcasing rich blues, aquas and greens found in Riviera Maya's cenotes or natural underground pools. Hand-made volcanic glazed tiles ascend from dark to light, like the cenote waters, while more than 200 ceramic lights hang suspended like vines.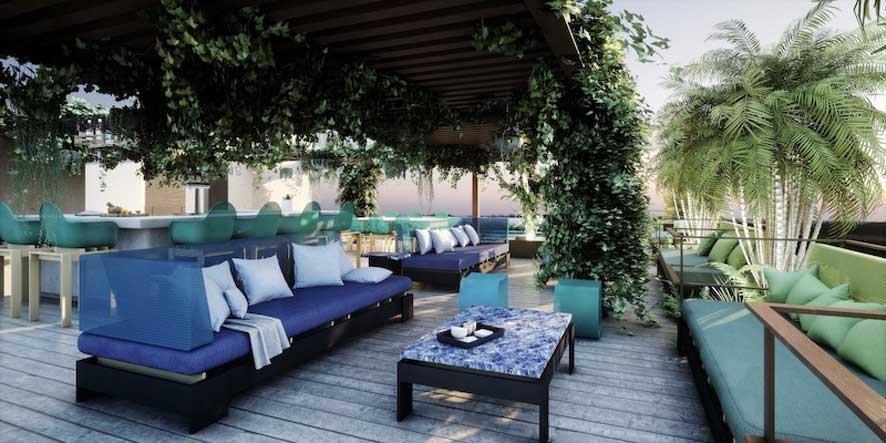 "I wanted people to remember certain details—the colors, the textures, the materials that are iconic to Mexico—to create a specific DNA for the offering that one experiences each and every time they walk through the front door," Hayek tells The Agency. The residential collection at Volta includes studios, one- and two-bedroom condominiums, as well as The Signature Collection residences, which feature furnishings and design by Hayek. Residences showcase expansive window walls, chef-caliber kitchens, spa-style baths, premier finishes and private balconies in select residences. Owners may also choose from a selection of furniture packages curated by Hayek. "The caliber of design and the lifestyle amenity offerings truly set Volta apart from any other living experience in Playa del Carmen," says Alejandro, Vice President, Estates Division at The Agency. "From the spectacular lobby to the rooftop terrace, every detail has been carefully chosen and placed by master craftsmen."
"Playa del Carmen is renowned for its active, wellness-focused lifestyle," "Volta's fitness offerings, paired with the rooftop terrace amenities, allow residents to live the Playa del Carmen life to the fullest."
Sally Sudol
Managing Director of The Agency Riviera Maya
Residents of Volta enjoy a wealth of private amenities for gathering, unwinding and wellness. The rooftop terrace is a leafy oasis featuring an expansive pool, heated spa, shaded lounges and cabanas, a centrally located bar, dining terrace and sundeck with views to the Caribbean Sea. Volta also boasts a state-of-the-art, fully equipped fitness studio designed by Moduvated, an expert fitness design team that has consulted on some of the finest projects in Mexico. The Moduvated team also provides fitness management services and programming, including group classes and personalized instruction.

Volta also provides 24-hour security and a turnkey living experience, working with the best in the business for property management, vacation rental and concierge services. Residents enjoy a walkable lifestyle, located steps from Playa del Carmen's Caribbean beaches and Fifth Avenue's flourishing culinary scene, vibrant arts community and trendy nightlife.

Residences at Volta are priced from $149,000. For more information, contact Alejandro Aldrete and Sally Sudol, or visit VoltaPDC.com.