CANCUN
If you're looking for real estate investments in the heart of the action, Cancun is the location for you. With 4 distinct zones, this vibrant city truly has something for everyone. White sand beaches, world-class shopping, a plethora of bars and restaurants, high-end and boutique hotels, Cancun has it all.

Downtown Cancun is full of chic restaurants, hip-bars, residential areas with great international schools and all the shopping malls and boutique stores your heart could desire. Puerto Cancun is located between the bustling hotel zone and the stunning Marina. This is where you will find yacht parties, designer stores, world-renowned restaurants and high-end apartments. The hotel zone in Cancun is infamous for its beautiful beaches and non-stop parties. If you're looking for a vacation home or to invest in a condo to rent out, this is a great location. Finally, Playa Mujeres is where you will find the most picturesque beaches, quiet residential areas and plenty of lush jungle.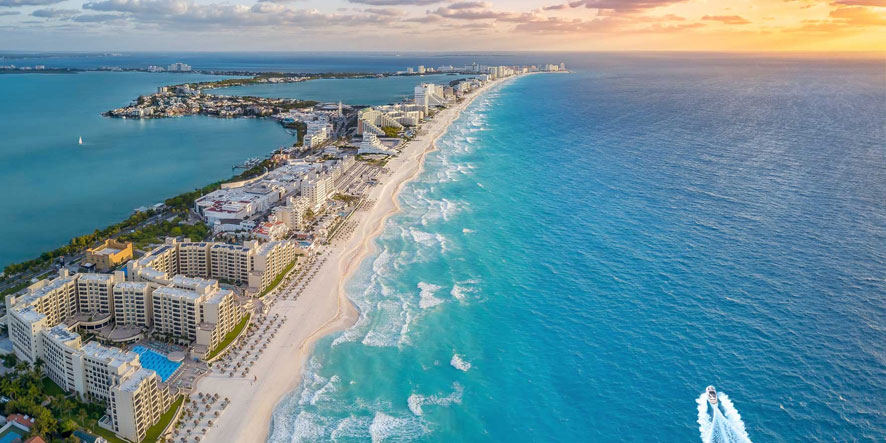 With the option of cosmopolitan city living or a more laid back, beach lifestyle, it's no wonder why Cancun welcomes over 7 million international tourists a year. If you're looking to invest in a vacation property in Cancun, these impressive tourism numbers mean that you can expect an average occupancy rate of 85% annually and a return on investment of 8-4% per year.

If you're looking for homes for sale in Cancun, land to purchase in Cancun, or condos for sale in Cancun, please don't hesitate to contact The Agency RM team with your questions.